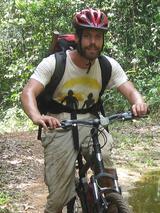 Back to Bangkok (Tue 5 May)
As I wake up groggily to my phone's alarm, I have to fight the instinct to hit snooze. There's just time to pack and eat, then I'm on the bus. On the way, I'm reading "First They Killed my Father", a heavy-going, but gripping account of life under the Khmer Rouge, from the eyes of a young girl. The journey passes quickly as I turn the pages, although the bus keeps stopping. The Poipet border is much busier than Koh Kong where I'd entered, you have to queue so it takes a while, but it's no problem really. Interestingly, there are casinos in the no-man's land between the Cambodian exit and Thai entry.
As we arrive in Bangkok we hit the most awful jams. All the traffic is held up as we see processions of people waving Thai flags. It's nothing to do with the recent protests - it's 60 years today since the King took the throne. The bus crawls and crawls, eventually arriving at 10:30 - nearly 15 hours since we set off. Siam Reap feels a world away. I'd never had such a long journey during the day, all the others had been sleepers, but the book kept me sane.
Back on Khao San Road, I head back to Barn Thai, bringing Alexandra and her Dad from the bus. The staff remember me, and it's great to be back, definitely my favourite guest house in Bangkok. I go back to my favourite street stall for a humus falafel pita. Then I hear my name called, and a gorgeous young girl is running toward me, it's Eliza again! Second time we've met up randomly on this road. Hugs and smiles, and she introduces us to their group - there's about 15 of them out here now. And they're all nuts!
So then they drag me off to the Ping Pong show. I'd avoided these previously, a bit too sleazy for my liking, but if the girls are going it must be ok. So then there's three overloaded tuk tuks racing along the road. And in we go, to what looks like just another strip club. But there's a twist, you would not believe what these girls can do with their female parts. Firing ping pong balls into a bucket, shooting darts at balloons, opening bottles, smoking cigarettes. And it's all in an atmosphere of fun and laughter, not sleaze. One of our lads strips and jumps on stage, the stripper likes it, but the bouncer is furious. It finishes with a sex show, which makes me feel less comfortable, but I realise I could be a whole lot more adventurous in my private life.
A New Look (Wed 6 May)
I'm up early, feeling fresh and ready for a day of errands. I make it about 30 seconds down Khao San road before I see people waving. It's the dregs of the crew from last night, up all night and no sleep, they're looking messy. So my breakfast is Chang beer, but I don't stay long, I've got to do things today.
I take a moto to MBK, a massive mall. What I really want is new Merrell flip flops, but they are nowhere to be found. I wander round, replace a few things I've lost or broken on the trip, get some new clothes too. I've been growing my hair for six months, but it's just become an uncontrollable mess. All the time I'd said I want to have long hair once in my life, but I've just got the wrong kind of hair for it. A few people commented that if I did grow it, I'd look like Jesus! So it's time for a haircut, back to the short, clean-cut look. And the beard? I like having it, but I'll keep it neatly trimmed short now.
Back on Khao San, I run into Alexandra again. We eat dinner at a street restaurant, I pick a dish a bit too spicy. I'm touched by the relationship she has with her Dad, she calls him Daddycool. And the openness comes from a small change in heart from most parents - in life, you learn from the mistakes you make. This reminds me of the son of one of my girlfriends, I guess he was kind of my step-son. When I let go of being a controlling bugger, we got on so well. Now, Daddycool doesn't speak English so well, so this is a great opportunity to practise my French, and I'm definitely improving!
After a quiet street drink, we sit in the guest house chatting for hours. Aw, why does she have to be leaving tomorrow? It's tough travelling, every time I meet someone I like, we have to go our separate ways.
Errands and Hedonism (Thu 7 May)
I get an early knock from Alexandra, saying goodbye as they're off to Koh Samet. So many goodbyes, it never gets easier. Hopefully we'll see each other again in Vietnam. Today is a day for errands, first stop is Bumgrumrad international hospital. Nothing serious, just a niggle I've had from before travelling. This place is interesting, very plush building, and it has a world-class reputation. There are lots of Arabs; I guess if you live in the Gulf and have money, this is the choice place for medical treatment.
Then I get my rucksack repaired, and use the super-fast Internet. I'd had an approach from a recruitment agent back home, decided this is the time to try Skype. It is fantastic, wish I had done this ages ago. I had a full-quality call over the Internet, costing little more than a local call back home. Despite the downturn there are still opportunities in security, and it's good to stay in touch with the market. I also complete my application for the monastery - if they accept me, I'll be starting 20 May, so there's time to get to the full moon party on Koh Phangan. And my last errand is something I've neglected for a long time - a gym workout.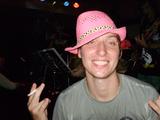 Come nighttime, I'm wandering the streets of Bangkok alone. It all seems a bit scary, I'm glad to find a quiet restaurant to eat alone. Back in Barn Thai, I have a great long chat with a German guy, then I'm ready to hit town. Just a few steps down Khao San a pissed Aussie jumps in my face with a promo board "cheap buckets, very strong". Just for fun, they've decided to be PR guys for this street bar. Then I spot two girls from Siam Reap, as we're catching up, Frij appears, and now I'm part of a big happy group. You're never alone long travelling.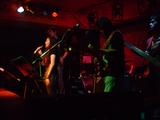 The buckets flow and we get merrier and merrier. Then the police show up and the bar guy panics - he's supposed to just be a street vendor, and the Aussies did so well at PR, the street's become full of people drinking around his stall. Then we're off to an Irish bar, there's the most wonderful Thai band playing Western cheesy music. Really, one of the best live music shows I've ever seen. And our group is just perfect for it, dancing around like the drunken fools we are.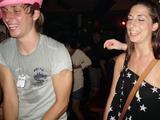 I have to compliment Hayley on her clothes, it's the best outfit I've ever seen a girl wear. A little black dress with white stars all over. Turns out she has many girls' dream job - she's a buyer for a fashion chain. After this we go to "The Club", more drunken dancing, some hanging around the street afterwards, then I'm collapsing unconscious in bed. I love Bangkok!
Bye Bye to Khao San (Fri 8 May)
I don't know why, but I don't tend to get hangovers in Bangkok. By rights, I should feel awful, but I'm doing just fine. I have breakfast with

Emma, a striking Irish redhead. She's got a virus on her phone's memory card and can't get her photos. Well, she's in luck, she's talking to exactly the right person. I spend half an hour in an Internet cafe, get her disinfected, it's great to see the smile on her face.
I wander down Khao San, doing a little shopping, and I spot a familiar-looking hat. It's Jimmy from Koh Chang. We wander around together, start some daytime drinking, meet some American girls. Just like Jimmy, the girls are here to teach English. The new school year is starting in just a few days, they're all finalising their placements and preparing themselves. Emma had shown me a lovely little pool just off Khao San, we try to go for a dip, but they won't let us in. And just before leaving I take my last street curry and chat to two very interesting guys. One is an epidemiologist, I ask him about swine flu. He says don't worry, and explains more about why it was appropriate to alert the world. With doctors like him, I think the world is in safe hands.
Then it's time for the bus. It's going to be a long journey, and the bus just has reclining seats, not flat beds like you get in India. I sit next to a cool Dutch guy called Maurice, we chat for ages, think we annoy the rest of the bus talking too much. I have a terrible night's sleep, trying to get comfy, and apparently stuff was getting nicked from people's bags. Normally I think India should be learning from Thailand, but when it comes to sleeper buses, Thailand needs to learn from India.
Full Moon Party (Sat 9 May)
Then we're getting on a boat, and it is full of party goers. I find a spot to sit and get lucky, the people around are so cool. This older guy, George, is so full of energy we all buzz off him. One of those people you remember. And then the boat's arriving, I fight my way through the throng of touts, and find the first Internet cafe. I know Josh and Izzy are on the island, really hoping there will be a message waiting for me, saying where they are. No such luck, so I'm on my own to find a place. I'd heard this can be very tough around party times, but I get lucky, pay only a little more than usual, for a bungalow that's within walking distance.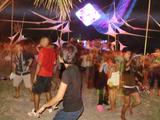 And after a few hours sleep I'm wandering down to the party. I'd really hoped not to be doing this on my own, but hey, maybe I'll find one of the two groups of friends among the thousands of people. As I walk on the beach, I am astounded. I have never seen anything like this in my life. The lights, the music, all the people. Words fail me here. Go see it! The closest thing I've experienced before is Glade festival (also a must-see event) but this is even better, and to top it off, we're on a beautiful beach in Thailand!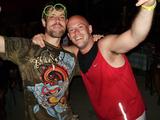 I start my first bucket watching people jump through a hoop of fire. Then I saunter along the beach, swinging my hips to different music on the way, high-fiving people, being in photos with randoms. Meet a bunch on English guys on a stag do - what a place to have it! Then I settle at Rock Bar, at the South end, bouncing around, flirting, I love that place.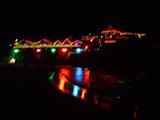 Another fun wander to the other end of the beach (it's a long way actually), and I try a mushroom shake. Although Thailand has extremely strict anti-drug laws, mushrooms are tolerated, sold in a few of the bars. I'm curious, so I try one. Sit with a lovely bunch here, seems everyone has lost their friends in the crowd. As the shake kicks in, all the colours heighten and blur, it's time to party. I find the techno rig, know this place is my home for the night. I'm so happy dancing around like a nutter.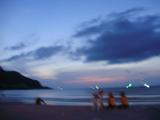 And then the first hints of daylight appear. I sit on the beach with a Finnish girl, watching the sunrise, it's always beautiful in this part of the world. And now it's light, you can see everyone. I'm feeling a bit left out with no body paint. Everyone's still going for it, and I head back to the South end. Now they're playing the most wonderful music, they call it rhythm house, doesn't sound like house to me, a little like breakbeat, but better! There's a DJ, with a drummer too. Again, the people here are so cool, love sitting around, though my dancing energy is waning.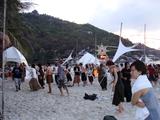 And then it's time to wander home, I've lasted until 8am. And just as I'm walking down the beach to leave I spot a familiar face. At last! Thought I'd never find my friends. We're so happy, all jumping on me while I swing them round and round. It's home time though, I wander back to the hut, keeping a very wide berth from any wobbly scooters that go by. Phew, bed!
Full Moon Recovery (Sun 10 May)
I sleep all day, meet a nice couple in the hut next door. We go to watch the football, or at least, sit in a bar where the football's on. The big gap-year group are here too, always great to see them, and I get to know some of the lads better. A couple of them are going to uni at Manchester, I'll show them the city when we're back.
Pool Party (Mon 11 May)
Today is a very special day - my travelling unbirthday. Six months ago today I was getting on that plane to Delhi. Oh my, how things have developed, I never imagined it would turn out like this. From traditional dancing with the villagers in the Cambodian jungle, to being surrounded by hot girls at beach parties. From eating bugs at a street stall to dining in luxury on top of the state tower. I was so scared of corrupt police in Asia, and then there I was, haggling over the bribes in Goa. I was worried I'd be all alone, and I've been surrounded by people more wonderful than I ever dreamt. I am so happy. Thank-you credit crunch!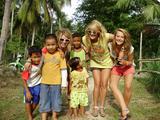 The gap-year group are getting bikes to explore the island. I'm a little wary, as the roads are very steep, the island has a reputation for bike accidents. Everyone else goes for an automatic, but I feel more comfortable on a semi-automatic. On a steep hill, being able to force it in a low gear gives you more control. The lads disappear while we're still eating, so it's just me and the girls. And we have a mission for the day - get photos to show that Eliza hasn't just been getting wasted all the time.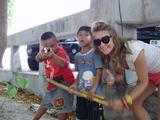 So we go about, every time we see some local children we get a photograph. And some of them just love posing! And there's us with a water buffalo and sitting with a local family. Then we head down a dirt track and Georgie comes off her bike. She's ok, just a couple of scrapes, but the mirrors are smashed. I feel awful, I had Franky to look after me when I learnt to ride these tracks, I should never have led them down there.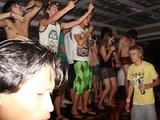 Evening time is the pool party at Coral, it's quite famous as a post-full-moon party. As I come in the group are playing the rowdiest ring-of-fire game I've ever seen. Rules like, if you get a seven, you have to jump on some strangers' table and dry hump it. Far from being about to kick us out, the staff are encouraging us. Yes, this party is absolute mayhem, crazier ever than that party at Nature, back on Koh Chang.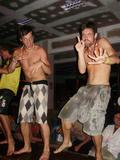 And as the buckets flow, we start dancing on tables, jumping about like the nutters we are. My behaviour is appalling. Flicking sweat off my body onto people. Throwing ice into girls' cleavage. And at this party, I just blend in. It's a wicked night, although I manage to fall in the pool fully dressed, damn it! If you're ever on Koh Phangan for the full moon party, make sure you stay on for this.
Haad Rin (Wed 13 May)
I check out of my bungalow, and I'm at a bit of a loose end. Thinking of kicking around for a day, booking a ticket to one of the national parks, relatively nearby on the mainland. With my back pack, I wander down to the beach, the one the party was on. After a little sit and read, my feet are really hurting, I think I stepped on glass while dancing barefoot at the pool party. I check-in to the nearest cheap room, and the lady there is so helpful, she picks everything out of the cuts with a pin.
I'm planning on a quiet day, and just pop to a nearby bar to read my book, "A Million Little Pieces". I end up chatting to two guys at a nearby table, Eamonn and Baz. A few drinks, stories and riddles later, and we know we're buddies. Eamonn takes me to his favourite spot, chicken corner, and shows me the nationality game. I'm not so great at it though. It's here that Delay appears. His real name is Kris, but his T-shirt says Delay and I keep calling him that.
We go to hang out at Drop Inn, there's a bit of a party here. We kick about a bit, chat to a few girls. I feel quite pressured hanging with these guys, but then, I learn a lot from them too. They're both the kind to see people for who they are, and speak their mind. Then we decide to wander up to Mushroom Mountain. It's fun being the three of us, we sit talking shit for ages. Delay knows some NLP and does a couple of techniques on me. But then the bar shuts and we're booted out.
Wandering back down the steps is a scary prospect. We all just about keep each other alive, finally back on solid ground. Then we're stuck on the beach with no lighter, and the guys are really craving. Getting one is a difficult prospect; my first attempt yields no lighter, but gets a hooker sniffing around us. Next attempt, still no lighter, but three snooty girls giving us grief. I put them in their place though "yeah, we're so wasted, we thought you might have been beautiful."
After this, we sit back on chicken corner for a while. End up chatting to a couple of hookers, and this is quite mind opening to me. Their attitude of "we're bored of sitting here being hookers and want to go home" makes me feel sympathy more than judgement. After a while, we end up sitting on the beach as it gets light. It's been absolute mayhem, I love Haad Rin, it's just as cool when it's not Full Moon Party.
Poorly Feet (Thu 14 May)
I wake up with my feet are hurting even more. I need to see a doctor, so I hop in a taxi to Bangkok clinic, the main medical centre on the island. A nurse cleans the wounds with iodine, which stings a bit. Then the doctor says they need to open the wounds up, to check for glass fragments. They'll use a local anaesthetic. Having the anaesthetic injection is horrible, right in my heel. I feel them poke around a bit, and the worst thing is that I know another injection is coming, for the other foot. It's time, "keep still" they warn me, and this takes all my effort as I get stabbed. At least the worst is over now, and after a bit more poking around, they're putting nice, professional dressings on my feet. I leave with a bag of drugs - antibiotics and painkillers. Excellent service, and it cost less than 2000 baht (40 pounds).
Then I'm wandering along Haad Rin beach again, wearing hiking trainers instead of flip-flops, to keep sand off my feet. I'm feeling pretty down, a bit sheepish about being a drunken ass the night before. Then I spot Baz, he gestures me over, and after half an hour of chatting, he's cheered me right back up. His mate Mark appears, just starting a long stay on Koh Phangan, and Eamonn appears for happy hour. It's great hanging out the four of us. Not much on tonight, the highlight, as much as it could be, was sitting in Cactus, watching people go nuts to that cheesy song "Don't you wish your girlfriend was HOT like me". It's an early night for me tonight.
Another Pool Party (Fri 15 May)
The morning starts with a handy discovery, there's an open Wifi spot near the guest house. With Internet cafes here charging 3 baht per minute, this is a sweet discovery. It's a pretty quiet day, kicking around the beach, reading, hanging with Eamonn and co. I go back to the clinic to have the dressings changed; they say I can do this myself from now. They also sternly remind me to finish the course of antibiotics. I get the impression that if I'd dropped my pants and dumped in the middle of the clinic, that would offend them less than me stopping the antibiotics. The evening is pretty quiet too, it's definitely turning to low season. Later on, we end up at the Coral pool party again. It's really not that great tonight, but we meet a cool Israeli guy called Saul. When it's home time, I can't be bothered with the walk, end up sleeping in a hammock outside someone's hut, no idea if they were home. First time all trip I've not made it home.
Last Night on Koh Phangan (Sat 16 May)
Wandering in the day, I spot Eamonn on Chicken Corner, and as we're half-way down our beers, Saul appears. We end up sitting in Baz's guest house, although Baz is missing, which is quite unusual. Eamonn starts chatting to a few people here, pretty soon we're hanging with a fun bunch of Israelis. After a while I'm not feeling so great, need to chill out on my own for a bit. I pick up my ticket for tomorrow, and go to a pharmacy to get supplies to dress my feet. This costs nearly as much as having the clinic do it, although at least this will do a few times.
After a lie down, a read, shower and new foot dressings, I'm feeling ten times better. I find the gang again and go off to party with Eamonn. We hang around Drop Inn, which has a bit of a party going on, and we have a laugh. Eamonn falls over and cracks his teeth, which seems awful. He keeps going though, and Haad Rin is pretty dead so we go off to another pool party. This is pretty naff too, we don't stay long. Back in Haad Rin, getting some 4am food, we run into the Israelis again. This turns out to be the saving grace for the night.
We wander down to the beach, while one of them grabs his guitar. He's only had it a month, doesn't really know how to play, but bought it for moments just like this. We sit around on the beach as the sun comes up, this is exactly how I wanted Koh Phangan to finish off. After a while, the Israelis split to bed, and an Aussie guy appears, he's another Paul. He's right on our wavelength, we chat for ages.
Running low on drink, I go off to get us a morning bucket. The bucket places on the beach are shut, so I find an empty bucket on the ground, rinse it out, and head to seven-eleven. I've always preferred Pepsi to Coke, and now I can get what I've wanted all along - a Sang Som, Red Bull and Pepsi bucket! There's a girl and a lad working the counter, the girl looks at me with disgust, but the lad thinks it's pretty funny. He even gives me ice for it, for free, even though the ice is just meant for slush puppies.
We carry on like this a bit longer, then I have to go. I have literally half an hour to pack my bag, check out and make tracks. I say goodbye to Eamonn, this is sad, it's been so much fun. And I'm on my missions - above everything else, I must not fall asleep on the job!
Botched Journey (Sun 17 May)
Having been up all night, I hop in the taxi to the boat. It's an organised journey - taxi, boat, bus, train - and we all have coloured stickers, so the staff know where to herd us. I meet some fun lads on the boat, but we're being way too loud to sit in the main area. End up sat on top, looking through each others' photos. Once the boat has arrived, I chuck my bag on the right bus and pop for a wee. I hop on the bus, snooze a little, and when we arrive they say "Koh Tao people stand here, Koh Phi Phi people stand here." "erm, I'm going to Bangkok."
The guy looks a little panicked, whips out his mobile. I'd got back on the wrong bus, I'm miles away from the station, and my back pack. He is really helpful, takes me in his tuk tuk to the right place, reunites me with my bag. As they point to the station, a train is just pulling away. My train, it turns out. Fortunately, trains run every hour, but this has been a costly mistake. The tuk tuk and new train ticket cost more than the original journey. At least I've only screwed up this badly once so far!
Back in Barn Thai (Mon 18 May)
I go back to Barn Thai, I always stay there, it's my favourite guest house in Bangkok. Pretty soon I've met up with Deb, my Aussie friend from the last stop in Bangkok. While I was on Koh Phangan, she'd been to Cambodia. We have breakfast together, then split to do our own errands. When we meet up again in the afternoon, I am exhausted, I hadn't slept properly on the train. She brings me round though, and with a dose of red bull, I'm ready to face the day again.
After a wander around Khao San, we pop back to the guest house. The couple in the next room seem cool, we go out for a drink with them. This is English Brian and German Kathryn. Predictably, one drinks becomes two, then it seems like a good time to change venue and head for the music bar. This feels quite grown up, being sat as two couples, listening to live music.
After a while, I feel the need to spice things up a bit. I play the nationality game with a table nearby, pretty soon they invite us over. Brian and Kathryn have to leave, so just Deb and I join them. They invite a lone guy on another table too. This is Alex, a recruiter from England, who later turns out to be quite significant in my journey. We stop for a drink, have a fun chat. Then it's time to wander on. We stop at the Irish bar, upstairs above Central. The same Thai band as last time is again playing Western cheesy songs. The place is pretty dead, it's just us dancing around, but this is really fun. We just stay for one drink, then it's time to crash.
More Khao San Fun (Tue 19 May)
After breakfast at the organic cafe, it's time for Deb to go. She's headed back to the village in the hills where she is a volunteer. I wander around a bit, don't do much. End up chatting to an English girl in the guest house, her name's Heather. We talk for ages about books, we've quite a similar taste, but totally different opinions on some authors. As night comes, we go together to meet her friend Dan.
We find him easily enough, he's sat in the Music Bar, but the place is dead. I drag them to Chart for the cheap buckets, and as we're sat I spot a familiar face walking past. It's "Delay" (real name Kris) from Koh Phangan, great to see him again. We have fun drinking here, join some American girls. Then I split with Heather and Dan, we shoot some pool in one of the Irish bars. It's getting late now and we're reasonably drunk, so we go to brave The Club. It's never so great in here really, but it's something to do. We hang around until it closes, they split to wander the streets while I crash.
Quiet Day (Wed 20 May)
It's definitely time for a quiet day kicking around. I don't do much, sit in a couple of parks near Khao San, read my book. I have two really interesting conversations though. First, an older Thai guy talks to me, shows me photos of him and his wife all around the world. He's retired now, used to be a mechanic for Thai Airways, which is very well paid by Thai standards, and it sounds like they take excellent care of their staff. I'm really jealous that he's ridden on an Airbus A380 - the newest, largest and most technically advanced passenger aircraft in the world. And I chat to a French guy, he doesn't speak much English, but I just about manage a conversation in my broken French. He had come to Thailand with a friend, a Lao guy who now lives in France. His friend was turned away at immigration - visa on arrival is not available to Lao citizens. He sees the funny side, but I doubt his friend does!
Errands Day (Thu 21 May)
First job today is to get some travellers' cheques. As it stands, if I lose my cash card, I am screwed, no way to get money. I did have a credit card as backup, but it's expired now. It's surprisingly difficult to get these things. After asking at many money changers, I get directions to a bank. There's a foreigners' desk here, and after a ridiculous amount of paperwork, I finally have my cheques.
I do some more errands at the big MBK mall, get myself yet another camera. At least I can claim for the broken ones on my travel insurance. I buy a second-hand Canon - its exactly the camera I want, at a cheaper (but not great) price, just a little scratched and no warranty. The store owner tries to set me up with one of his staff, which is sweet, but not for me.
Come night time, I'm alone and not feeling like a party, but it's probably my last night here, so I force myself out. I start quietly people watching from a bar, which is really interesting. Everyone walks slowly here, the odd person who rushes really sticks out. It's nothing like England. Then I go to the live music bar, sit alone with my beer. I'm really not feeling like being out. For instance, a hot girl sat with her friend discretely invites me over, with a subtle flick of her eyes, but I just pretend not to notice.
And then a familiar face appears. I am so happy! Just what I needed. It's Alex, who I'd met briefly in here a few nights ago. He's got an Aussie friend with him, Gareth. We end up hanging out for the night, move on to Central and meet some lovely Canadian girls. We sit chatting and sharing stories, they're right at the end of their holiday. After a while they have to leave - literally to hop in a taxi to the airport.
Gareth and I end up sitting around some buskers on the street, they've built up a small group of travellers around them, and their mate is selling beer from a cool box. This is fun, and after a while it's getting light, and a stream of people appears on the road. And among them is another familiar face, it's Eamonn from Koh Phangan. Hugs and smiles all round, and he joins the end of the buskers' group. After some catching up, it's time to split and sleep.
Off to Chiang Mai (Fri 22 May)
I sleep most of the day, get up about 3pm, still feeling groggy. I go to Chart to meet Gareth, and he turns up after a while. He's going off to Chiang Mai, has a three-day trek already booked. I'm up for it, and we'd both like a travel buddy, so he takes me to his travel agent to book the same ticket. I've got a bunch of things to sort out now, kit for the trek, book for the bus, packing my bag. And the heavens open with possibly the most torrential storm I've seen so far. There's no time to wait it out, I throw on my waterproof and brave the flooding streets.
Then it's time to hop on the bus. Quite a coincidence, Dan, the Aussie from the other night is on the same bus. The journey is quite comfortable, despite being recliner seats not proper sleeper beds, and quite uneventful too. Near to Chiang Mai we're shuffled onto minibuses, and about 7am we're dropped at the hotel. It's nicer than I'm used to, the room even has air-con, and both Gareth and I get our heads down for a few more hours kip.
Cooking Class (Sat 23 May)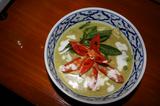 We surface about midday and go for a late breakfast in the hotel next door. There's a pool here, which we're allowed to use. We run into a German girl from the bus and eat with her. Gareth splits to sort some things out, while we laze in the pool. Then it's time to wander into town, take a look around. Dorothea is really keen to take a cooking class. I'm a bit sceptical, the class I took back in Pushkar, India was pretty naff. But between her and the travel agent, I'm won over.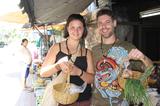 When we're picked up, we're asked what dishes we'd like to learn. We both have one we're really keen on - Green Curry for me, and Mango Sticky Rice for Dorothea. We let the teacher pick the others, to give us a bit of variety. The class starts with a trip to the local market, where we buy some of the produce. This is fun, although I'm not sure I could gather the same basket on my own. I notice the teacher pays for the goods out of sight from us, presumably as she's getting a Thai price we're not allowed to know.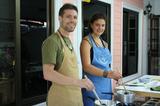 The class turns out to be wonderfully put together. First the teacher talks a little about the dish and the ingredients, suggesting alternatives where items aren't readily available in Europe. We don't need to write any of this down, as we'll be given a recipe book at the end. Then she cooks it in front of us, talking us through the steps. And then it's our turn, the measured ingredients are set out for us, and we both cook a dish, just like on TV.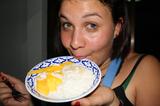 The food is yummy. First couple of dishes we eat as soon as we've cooked them. Then the Pad Thai and Green Curry are saved. They cook some rice to go with it, and we have a lovely dinner, beer and all. And pudding is the mango sticky rice, yummy! Really fun day, totally changed my expectations for a cooking course.
Trekking and Elephant Riding (Sun 24 May)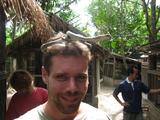 A open-back truck picks us up in the morning, and we meet out guide, Chen, and the only other person on our trek, Ellie. She's also from Manchester, knows some of the same hang-outs that I do. First stop is the snake farm, which includes a snake charming show. Ellie screams when they hold a snake too close to her, which is a really bad move, as the guys pick on her after that. They're good though, one of them throws a big python in a pool and dives to retrieve it. After this, there's some quick stops at a market, and an orchid farm, then we're driving into the mountains.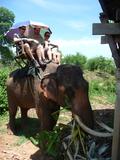 We stop for lunch at what looks like someone's house. The foods good - veg fried rice, with lots of fruit for desert. Then it's time for our elephant ride. I am a bit sceptical of this, I don't think it's good for the elephant, but I go along anyway. At least we bought some bananas to feed them. And this is fun, while I'm feeding our elephant, one of the others tries to get in on the action. Our elephant has a mind of his own, at one point as we're riding, he rips a banana tree out of the ground and carries it for a while. The guide has to do a lot of coercing to keep him on track.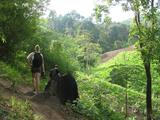 Then it's a short ride to the start of the trek. After checking our rucksacks, we're walking off through the jungle. This is very picturesque - lots of green, and the occasional stream to cross. After a brief stop at a small waterfall, we start heading up. The walk gets steeper and harder, but we're rewarded with occasional glimpses through the trees to see the whole valley. As it's getting really tough, we emerge from the trees, and can see a village in the distance, that's where we'll be sleeping tonight.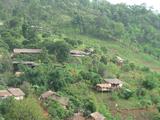 Finally we're arriving in the village, hot and sweaty. The place is very basic, all bamboo huts. It's quite similar to Chi Phat, which I visited in Cambodia. We get showered and it is lovely to be clear again! Although the village doesn't have mains water, they have somehow arranged showers, although the pressure is pretty low. They cook us a lovely dinner, then it's a fun evening sitting around chatting and playing games.
Trekking to the Waterfall (Mon 25 May)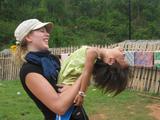 The walk is generally flat and downhill today, so it's more gentle than yesterday. A dog follows us out of the village, which at first is mostly ignored. We stop at another village for a mid-morning break. Gareth and Ellie play with some of the local children, which ends with some minor carnage as a washing line gets snapped, and one of the children is dropped. We meet another group here, a larger one doing a similar route, and we join with them until the next stop.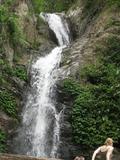 Next stop is a waterfall, as usual, it's quite photogenic. We stop for a swim, and a few photos. We leave the other group and go on to the lunch stop, a few huts by another waterfall. Lots of groups stop here, we must have seen at least five of them. After here, we follow the river down, and the area is surprisingly developed. It's still jungle, but every few hundred metres there's a hut. And they're ready for tourists, with a stall outside selling drinks and snacks. The dog is still following us; Gareth and Ellie decide to call him Rover. Looks like we made a friend today!
The evening is at a kind of home stay, right by the river. We're sleeping semi-outdoors - there's a roof and three walls, but the rest is open to the elements. And the mosquitoes! We play cards with the locals for a while, teach them to play shit head. Come bed time, we're not tired enough to sleep. We end up playing games like word association and the famous people game, until it's far too late.
White Water Rafting (Tue 26 May)
I wake up first, and after a quick coffee, the hosts send me off over the river to pick some lyches. It's tough climbing an overgrown hill wearing just flip-flops, and I'm worried that the professional pickers will kick me off their spot. No worries it turns out, I get a bunch myself, then they let me top up out of their basket. Our "mum" for the night seemed pretty pleased with the bag I brought back.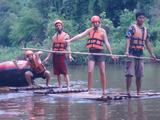 The trekking today turns out to just be five minutes walk up the road, to the rafting place. We get kitted up in life jackets and helmets, then we're carrying a rubber dingy down to the river. The ride is fun, but although there is some white water, it's incredibly tame. I hadn't realised how sturdy these dingys are, rocks are no problem. We do a stint on a bamboo raft too, in gentler water.
And that's the end of the trek. We wait around to get picked up, playing some more shit head. Back in Chiang Mai, we swap all our photos on my laptop, then split to get cleaned up. It's lovely to be so clean! I try to find J's Guest House, to copy the Full Moon DVD off an Israeli couple. Turns out there's Jay's and JJ's in town as well, and I keep getting dud directions. I lose my patience after a while and give up. It's only a damn DVD.
In the evening we meet up with Ellie and go for a farewell drink. We wander for some time looking for a lively bar, don't find anything. I ask some girls in the street, they're no wiser than us. End up having a quiet drink in a street-side bar, then another one on a roof top. We play pool on the worst table imaginable, the balls have a mind of their own. Then it's another teary goodbye, and Gareth and I are wandering the streets, looking for the party.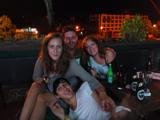 We'd seen a fun-looking, roof-top bar called THC, so we head there. Drinks in hand, we're looking for somewhere to sit, when someone says "Hi". It's the girls I'd talked to in the street, plus a couple of guys trying to pick them up. One of them is from Greenland, the first person I've ever met from there. And apparently, that's what everyone says. We sit around and have fun, then the place closes and kicks us out. Gareth wanders off on his own, while the rest of us head to Spicy.
This place is a bit of a dive, full of hookers, a few sex tourists hanging around, and a small contingent of travellers. Then I notice some people from the trek - the other group we'd walked with for a while. After some small talk, I end up sitting by the river with this Irish girl, talking about nothing until the sun comes up.
All Sorts (Wed 27 May)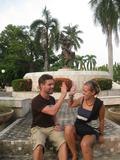 I feel really damaged in the morning, that last bucket was a bad idea. Like a trooper, Gareth gets up anyway and goes to his cooking class. He later tells us that the teacher picks on him all day for being slow and hungover. I sit around for most of the day doing very little. In the afternoon, I meet up with Sarah and we wander down to a park together. This place is lovely, very picturesque, and busy too. There's an aerobics class going on, must be quite fun to do it outdoors. I ask a passer-by to take a photo of us, turns out he's a professional photographer. He tells us where to sit, and we end up with three family-portrait style photos. It's fun hanging with her; she keeps saying "tell me a story".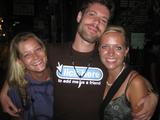 In the evening I am exhausted, need to take a power nap. After I sleep through the alarm, Gareth and Sarah come to wake me. As we're wandering into town, we eye up a bar with live music, and someone calls my name. I have to do a double-take, then I realise it's Femke, the Dutch girl from Kampot, Cambodia. Since I last saw her, she's been through Vietnam and Laos, roughly the opposite trip to what I'll be doing. It's really good to catch up, although I'm a bit worried her and Sarah will end up having a handbag fight.
After this, it's time to watch the match. I don't really follow football, but this is the Champion's League final, match of the year. I'm nominally a Man City fan, but in a match like this, I'll support any team from Manchester, I'm not so stubborn as to support anyone who's not United. Not a great result, but hey, I don't really follow football anyway. After this it's time to say goodbye to Sarah, then Gareth and I wander off for his last drink in this town. Nothing too exciting, Spicy is still a dive, but we're not wandering home until it's light.
Quiet Day (Thu 28 May)
The day starts with Gareth leaving, he's flying down to Phuket. This is quite sad, we've had loads of fun travelling together. After our goodbyes, I'm too lazy to check out of the hotel. One more night in luxury won't kill my budget. I do very little all day, start updating the blog for the recent adventures, sleep some more. I do finally book my place on Flight of the Gibbon, which is expensive, but something I've been keen on ever since I saw the poster in Bangkok. I have a quiet drink in THC before bed, bump into an English guy who's been in Chiang Mai two months. He came here planning to just pass through, but liked it so much he stayed.
Flight of the Gibbon (Fri 29 May)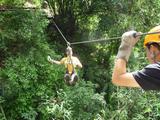 It's a very early start for the day I've been looking forward to ever since I saw the poster in Bangkok. An hours drive away, we're clipping on safety harnesses, and being led into the trees. It's a high-up adventure, inspired by the techniques some scientists use to get around, think of the film Medicine Man. We're flying between platforms on zip lines, and it is exhilarating! I'm just a little bit scared of heights, which adds even more to the adrenaline. They're very safety conscious, you're always clipped on to something, but sometimes I think they're a bit too trusting of the gear. I'm nearly knocked off a platform once, and the guy's like "so what? you're clipped on." It still would hurt to fall off and the rope catch me!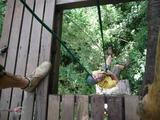 As an unexpected bonus, a Thai TV channel is filming here today. There's two giggly Thai girls as presenters and the staff are so cruel to them! They leave one stranded in the middle of a zip line, while she screams and screams to be let down. Definitely makes for good TV. There's a couple of points where you're lowered on a rope, a bit like abseiling. On one, hanging face down with nothing beneath me, just to wind me up, they drop me for a bit. That was scary! All told, it's a wonderful morning, finished with lunch and a waterfall.
In the evening I go to watch a Muay Thai fight. Nine fights in fact, starting with juniors and building up the the big fight. The fighting is much more interesting to watch that mixed martial arts (MMA) I've seen back home. But the cheap seats are tough on your bum, and it's been a long day, so I don't stay for the finale.
Downhill Mountain Biking (Sat 30 May)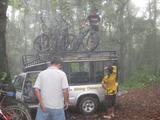 I get picked up and taken to the bike shop. The American owner seems very organised, he shows us 3D representations of the available routes, using Google Earth. After paying the hefty price tag for the day, we're in a Songthaew with bikes on the roof, riding into the mountains. Getting ready involves an impressive amount of safety gear - not just helmet and glasses, but elbow and knee pads and chest armour. At this point I'm still thinking it can't be too difficult.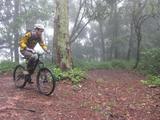 The first section is on road, not particularly challenging, but people go so fast. Road cycling is largely about control and safety. But off-roading with all the safety gear, you can push your luck and expect the odd fall. After a while we get to an incredibly steep off-road bit, it's just beyond my ability to control the bike here and I have to push. To top it off, I get a jammed chain and a pedal fall off! I don't enjoy this section at all, but after a while we get to a moderate slope and it is brilliant. The bikes are amazing at taking bumps, you get really throw yourself headlong down the mountain.
Come evening time, I am shattered, two tiring days in a row. It's my last night in Chiang Mai though, so I feel I have to go out for a bit. In the bar, not feeling incredibly sociable, I chat to the older guy alone, rather than the four backpacker girls. He turns out to be full of interesting information. Bruce tells me about teaching English to unruly kids. Why some girls choose prostitution instead of a life in the rice fields. Why so many waitress girls are happy to have an older Western boyfriend. And why the aircraft mechanic I met was so well off - those in the aircraft industry are paid by international standards. This reminds me that travelling is all about meeting different kinds of people.
Pai (Sun 31 May)
After breakfast, I find a travel agent to book my ticket to Pai. She's quite helpful, so I decide to also arrange my Vietnam Visa, and Laos Slow Boat through her. Getting all this arranged is quite a weight off my mind, and with the return bus from Pai already booked, I can't end up overstaying and wrecking the rest of my plans. I've only seven weeks to get through Laos, Vietnam, Southern Thailand, Malaysia and Singapore, so I need to get my skates on.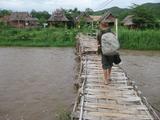 The bus ride isn't too long, but the mountain roads are unbelievably windy, it's like riding a roller coaster. When we arrive, everyone is looking for a place to stay; five of us end up wandering together. We find a lovely area just by the river, and some nice huts at a great price. It's nice to meet people like this; the five of us end up hanging around together for the whole time in Pai.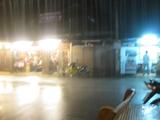 We go for dinner, and the cheap prices are a pleasant surprise. Waiting for the food, I get a surprise call off a friend from home who's now working in Phuket. And she has some exciting news: she's just gotten engaged to another close friend. That makes it one baby and one engagement while I've been away. As we start on as after dinner beer, a tennis match comes on the TV. We don't pay it much attention at first, although I notice the low seed has broken Nadal's serve in the first few games. The heavens open with another tropical storm, and I manage to get a great photo using long-shutter mode on my camera.
As the match develops, it becomes something of an epic, one of the best matches I've ever watched. This lower-ranking Swede is beating the world number one, on his favourite surface. An historic match, and to top it off, Eric (one of the five from the bus) is Swedish; people in the bar are buying him drinks as if he'd been out there playing.
Exploring Around Pai (Mon 1 Jun)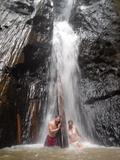 Lara and I decide to get a scooter to explore the area. Ben (my hut buddy) is ill today unfortunately, and Liam and Eric decide to keep him company. The bike place give us a map of the area, and we squint at it while waiting out another rain storm. Then we're off down the road, with only one mishap. The strap on my helmet comes unclipped. It flies off, smacks poor Lara in the face, then we have to stop and search the road-side ditches to retrieve it.
First stop is the waterfall, yet another different kind of waterfall. You can see how the water has cut a gash in the hard rock, must have taken millions of years. It's nice to paddle here, but this is just a short stop, we've got a busy itinerary today.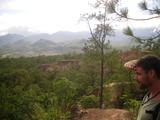 Next is the canyon. The views are spectacular, I see my first rainbow in as long as I can remember. Scrambling across is tough, especially for Lara, wearing flip flops. And it's here we first meet Carley and Sophie.
Then we're on the way to the hot springs. We have another scooter mishap on the way - as I'm tweaking a wing mirror, it falls off. Yet again, we turn around and start a search. This one's easier to find though, and soon we're haggling the entry fee, and dipping our legs in the hot pool - just like a hot bath.
After an uneventful ride home, we have dinner as a group. Phil and Harry from the other night appear, and a little later we see Carley and Sophie too. They've got their scooter, and check out which place has got people tonight. We end up sat in "Don't Cry" watching a fire show and drinking till the early hours.
Back to Chiang Mai (Tue 2 Jun)
As I'm wandering to find breakfast, I spot Lara sitting in a street-side cafe. I join her, end up spending hours here. We know lots of the people who walk past, from the last couple of days hanging out. Some stop briefly; others sit and join us. This is a great place to sit! Then it's time to pack my things and hop on the bus back to Chiang Mai, the first leg of four days on the move. I try to stay in Julie's Guest House, where everyone seems to stay, but it's full. A shame, as the bar area is busy and looks really fun. I end up in another place which is a bit of a dump; free Wifi is its only saving grace. The evening is pretty uneventful, but I meet a Mancunian couple. They're living in Chorlton now, and come from Sandbach, just down the road from where I grew up.
Chiang Rai (Wed 3 Jun)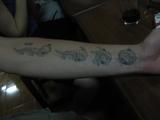 The four days travelling continue; today is a six hour bus ride to Chiang Rai, on the Thai side of the border with Laos. The journey is a little tedious, and there's nothing of interest in the town. But there's lots of people doing the same trip, and a nice atmosphere in the bar. A group of ten or so starts to form. One guy has a tattoo of a MC Escher work on his arm. This is the mathematician turned artist, famous for pictures like the never-ending staircase. I'm most impressed, he is my favourite artist, and this is just about the only time someone else has brought him up in conversation.
© 1998 - 2012

Paul Johnston
, distributed under the
BSD License
Updated:
21 Jul 2009